Excellence in Ship Control

KAMOME TFA-series side thrusters incorporate fixed pitch propellers. Their simple and robust structure supports a very high level of durability and easy maintainability. An engine, electric motor or hydraulic motor may be used with them as a drive mechanism.
A user-friendly control system enables ship control beginning with start-up on a single control panel, so the ship can be easily controlled by button operation.
Features
High performance and great durability
Robust and easy-to-handle since their release in 1960, high durability has been achieved.
Low level of vibration and noise
Fine design considerations given to duct structure and thickness in order to reduce vibration and noise in living space when thruster is in operation.
Easy to install and maintain
Thrusters have a structure without duct ribs to ensure they can be fitted by welding to any part of the exterior surface of the duct. Only the seal in the rotating part needs regular replacement, which reduces the hassles of maintenance.
Wide variety of drive systems
Compatible with electric motors, engines and hydraulic motors, thrusters can be used in a wide variety of configurations.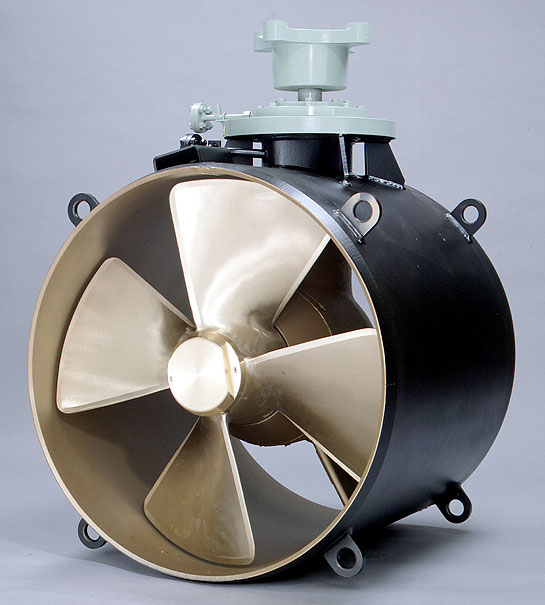 Structure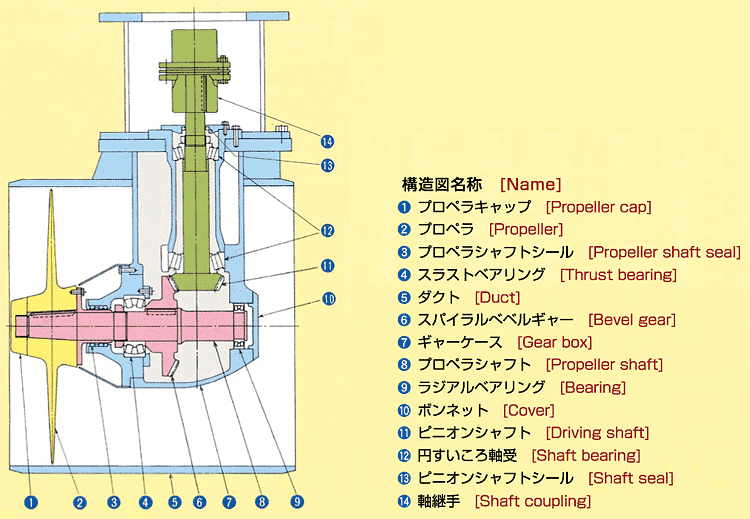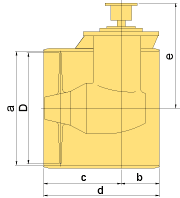 Standard Dimension
| 型式 | D | a | b | c | d | e | 本体重量(kg) |
| --- | --- | --- | --- | --- | --- | --- | --- |
| TF-03 | 300 | 336 | 100 | 250 | 350 | 320 | 110 |
| TFA-06 | 400 | 448 | 140 | 360 | 500 | 490 | 290 |
| TFA-10 | 500 | 556 | 180 | 410 | 590 | 593 | 500 |
| TFA-14 | 612 | 625 | 195 | 465 | 660 | 615 | 550 |
| TFA-20 | 740 | 755 | 255 | 515 | 770 | 700 | 800 |
| TFA-25 | 830 | 846 | 295 | 565 | 860 | 760 | 1030 |
| TFA-35 | 950 | 969 | 325 | 625 | 950 | 855 | 1420 |
| TFA-50 | 1150 | 1173 | 360 | 640 | 1000 | 975 | 1900 |
| TFA-65 | 1300 | 1326 | 410 | 690 | 1100 | 1090 | 2600 |
| TFA-80 | 1450 | 1480 | 480 | 790 | 1270 | 1227 | 3400 |
| TFA-110 | 1550 | 1582 | 545 | 905 | 1450 | 1136 | 4300 |
(Units mm)
Performance Table
Type
Propellers diameter
(mm)
Maximum thrust(kN)
Maximum thrust(ton)
Maximum input
(kW)
Input revolution speed (rpm)
60Hz
Input revolution speed (rpm)
50Hz
Propellers revolution speed (rpm)
60Hz
Propellers revolution speed (rpm)
50Hz
TF-03
300
2.9
0.3
21
2100
2100
1576
1576
TFA-06
400
5.9
0.6
41
1760
1100
1360
1360
TFA-10
500
9.8
1.0
68
1760
1100
997
994
TFA-14
612
14.7
1.5
103
1760
1100
795
781
TFA-20
740
19.6
2.0
131
1,750
1100
644
642
TFA-25
830
25.5
2.6
172
1760
1100
572
579
TFA-35
950
34.3
3.5
243
1760
1100
508
508
TFA-50
1150
49.3
5.0
331
1760
1100
416
415
TFA-65
1300
63.7
6.5
435
1760
1100
388
374
TFA-80
1450
78.5
8.0
546
1750
1100
361
335
TFA-110
1550
107.9
11.0
723
1750
1450
393
370
Related links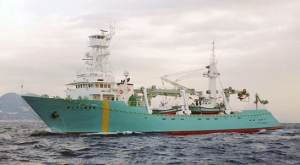 Fishing Ship – SOHO MARU
Ship NameSOHO MARUOwnerFukushima Gyogyo Co., Ltd.ShipyardMiho Shipyard Co., Ltd.S No.1512Principal DimensionsLPP51.0m×B11.6m×D6.6mTonnage300tonPropulsion and…