Handing down technologies
High-quality products are created by retaining the production know-how and skills we have developed in the 90-plus years since our establishment. Casting is essential for propeller production and would be impossible without a combination of quality control of metallic materials and production expertise. In this area, we very much capitalize on our accumulated experience.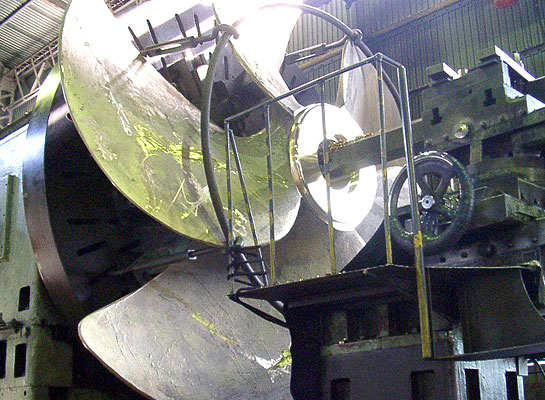 Integrated Production
Our integrated production starts with the process of melting materials for propellers, which is followed by casting, machining, finishing and assembly. This integrated production maintains a high level of quality.
Advanced Machining Technologies
A blade processing system that accurately controls five axes according to the design data achieves high precision in propeller machining. Our production know-how for offering products that best suit users' needs comes from our accumulation of processing data for all propellers.
Craftsmanship
We have consistently honed our machining technologies. Even today, however, propellers composed solely of curved surfaces cannot be produced by machines alone. Surpassing the precision of machining, craftsmanship in manual finishing is vital, particularly for cast forming and final polishing.
Rigid Testing
Controllable pitch propellers and side thrusters are required to have a high level of assembly precision. Therefore they are subject to thorough process control and operation testing before delivery.
Feedback
Based on the experience in installation on ships and on analysis and accumulation of findings from performance testing, trial operations and actual operation records, design is reviewed and review results are fed back to the design database. This enables us to offer products that are optimally suited to newly arising needs.
Environmental Considerations
In addition to using parts that conform to the rules and environmentally friendly materials, we focus on recycling, energy-saving, waste reduction and pollution control in the manufacturing process as we strive to conserve and improve the environment.
---